Weekly Weather November 10, 2014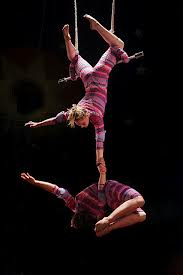 Passion is not friendly. It is arrogant, superbly contemptuous of all that is not itself, and, as the very definition of passion implies the impulse to freedom, it has a mighty intimidating power. It contains a challenge. It contains an unspeakable hope.  James Baldwin.
https://www.youtube.com/watch?v=Km8utweSkP4
Expect another rocking and rolling week with profound aspects that ask us to choose our future.  There is a huge sun spot on the Sun which has been burping solar flares at earth since October 24.  Solar flares add an activation, flare up, stimulating energy to everything else going on down here on earth.  Apparently the sun spot is the largest since 1990.  So with Mr. Sun belching magnetic energy at us like a drunken sailor, we have "new beginnings" and "big choice moment" aspects this week!  Going to be a fun week!.
As expected, the national election went quite conservative with the Republicans taking control of Congress ~ increasing their hold on the House and taking control of the Senate.  A number of states elected Republican governors.  At the bottom of this week's column, I've included my Facebook post from last week. I will keep my very liberal, feminist, socialist (we have to take CARE of each other  ~ that is NOT socialism, that is human-ism!) politics out of the Weekly Weather column.  You come here for astrology.  However, I've decided my Facebook page is going to become political, activist, stand up and shout out liberal humanist! That Mars/Pluto conjunction this week is on my North Node in the 11th  house of groups.  Facebook is my group!  Might as well post all the stuff I read, put that time to good use and share it with you, my group! Skip the posts if you want. Read if you want. Continue to come here for plain astrology. Go to Facebook for astrology and politics.  Politics won't be found here (except for this week because it is my column and I want to!)
Our week ahead has 8, count them, 8 significant astrological features ~ any one of them could be several paragraphs or pages of information.  All of them will be amplified by those solar flares pulsing at us. All of them arrive this week and make for mighty interesting choices, challenges and opportunities.  In order of "strength", 1) the Mars/Pluto conjunction takes place on Monday.  2) Mars squares Uranus on Wednesday. 3) Venus joins with Saturn on Wednesday. 4) Neptune stations to go direct on Sunday but we start to feel it on Tuesday.  5) Sun squares Jupiter on Thursday. 6) Mercury trines Neptune on Tuesday and 7) sextiles Pluto on Sunday.  8) Venus enters Sagittarius on Sunday.
1) Mars joins Pluto at 6:03 pm EST Monday.  In lower form, it is anger, fights, violence, war or accidents.  Higher forms of Mars and Pluto working together are powerful people, triangular dynamics, leveraging power plays, very hot sex, and an amazing energy that can get things accomplished, leap tall buildings with a single bound or surmount just about any barrier or block.
How to work with the Mars/Pluto energy?  Postpone "that discussion" you are supposed to have until Tuesday (maybe even Thursday).  If you are completely clear about what you WANT to do, take advantage of the energy to blast toward a productive project.  If you want to change a habit, this is an excellent energy for starting new lifestyles.  It is great for clearing the project obstacles, tackling the immense job and climbing that mountain in your living room or office. It is NOT good for collaborative projects. It is NOT a collaborative energy.
If anger or emotions rise up, direct the energy TOWARD a productive place or project that needs doing.  Harness the energy towards a project.  You will make MAJOR progress on it! Be careful with mechanical devices that are dangerous ~ chain saws, cars, drills, trains, and anything that can hurt you if unleashed on your body.
2) Mars squares Uranus on Wednesday.  This is a closing, psychological square which started with the conjunction of Mars and Uranus on March 22, 2013 at 8 Aries.  You are releasing the changes made and psychologically coming to understand their role in your life.  It also can act like a "break up" aspect ~ a situation you just don't want to deal with any more can make you decide to take a different approach ~ Mars in Capricorn is super charged from his union with Pluto on Monday, so he's not fooling around.  Mars is also out of bounds so he's not following the rules.
How to work with Mars/ Uranus energy?  It is an accident prone energy so move slower than you usually do, take extra time, and be cautious with mechanical devices that are dangerous ~ chain saws, cars, drills, and things that can cut, sever or castrate. Remember the OTHER guy is having this energy too. Usually under this aspect there is a big accident that cuts up bodies into parts or involves explosions~ in this case knees and heads are prone to injury~ Capricorn and Aries body parts ruled respectively.
Use the energy to clear out, release or let go of things that block you or hold you back. You'll find you are a bit impatient, perhaps angry. It is a fast moving, quickly fueled and accelerating energy so folks can LOOK for something to hook THEIR anger onto to justify behaviors that they wouldn't normally do. Pychologically, the energy wants to make sense of or justify breaking up or separating.  Use it to separate from what  you no longer want.
3) Venus joins with Saturn on Wednesday. This aspect happens once a year.  HOWEVER, Saturn is in NEW TERRITORY!  Between Now and DECEMBER 8, 2014 when Saturn gets to 28:19 Scorpio, we are on a ONE shot get it done in this section of heavens and your chart.
How to work with it?  This Venus/Saturn aspect happens once every 29 years!!!  You get ONE shot for the next 29 years! Things committed to under Venus's union with the planet of Karma, purpose and why you are here are cosmically locked and loaded into your chart.  It is a time to boldly bond with partner or your beloved idea, project, dream or hope.  Commit to a life changing program, exercise, project, or diet under this energy~ you will definitely get it done!  You are able to leave behind those bad old habits behind and get good ones in place.  Venus/Saturn in Scorpio is great for the passionate pursuit of your karma! On a bad day, relationships end.
4) Neptune stations to go direct on Sunday but we start to feel it on Tuesday.  Last February 1, 2014 Neptune entered his shadow of 4:48 Pisces.  He stationed retrograde on June 10, 2014.  Now he turns direct. When an outer planet like Neptune stations, we feel it for the 5 days or so before and after. Neptune stations bring up deep emotions, sadness and profound feelings of love, connection or loss.
How to work with the Neptune station?  Know that emotions are close to the surface and can easily burble up and out of your eyes as tears. Take extra special care of yourself and nurture your soul. Watch out for excess in Sugar, drugs, alcohol and other addictions ~ it is easy to pick them up under the station.  They call out and whisper in  your ear!  Don't listen to them!  Double down on your spiritual practice. Get extra sleep. Float in your bath tub. Drink lots of water and healthful juices.
5) Sun squares Jupiter on Thursday. This one is fun but can be an overdoing energy. The intensity of the Sun in Scorpio is arguing with the optimism of Jupiter in an opening square of crisis and action. It takes us back to July 24, 2014 when Sun and Jupiter linked up.  Now you psychologically see things you missed before in your exuberance to get things going. How did you miss them?  Who knows but you did. Now you see them. Thank heavens for the sight!
How to work with this energy?  Leave the credit cards at home.  Let your imagination run wild.  It's a dream come true energy!
6) Mercury trines Neptune on Tuesday.  A once a year energy that is amplified because Neptune is stationing and Mercury is on the eclipse point from October 23, 2014. Unexpected news or information, probably of a shocking nature, inspires or disillusions you.  Both are illusions that are amplified.
How to work with the energy?  Thank it for inspiring or scaring  you. Take all information that is unclear with a grain of salt. Allow the station to happen before you get all riled up.  Just because it is on the internet does not mean it is true!
7) Mercury sextiles Pluto on Sunday.  Mercury in Scorpio connects with Pluto in Capricorn in a harvesting and disseminating closing sextile, gathering his information from the recent union with Mars to share with others.  Mercury/Pluto is deep thinking as well as difficult but not unexpected news.
How to work with the energy?  Take time to delve into matters and clear or clean things up before you act. Lots of changes taking place behind the scenes.
8) Venus enters Sagittarius on Sunday.   Here we catch a break. Our favorite girlfriend is in the sign of party down!  The holidays have officially arrived!  Spend money! Party! Dance! Sing! Envision. Dream BIG!!!  Shoot for the stars! Venus is in Sagittarius until December 10. Dream big~ remember that December 8, Saturn finishes with his clear patch of sky so get those ideas, passions, and fantasies out of your head and into some kind of work in progress.  Start a bazillion things to get the seeds planted for your future. Scatter your seeds like dandelion seeds… blow hard!
How to work with the energy? It is a foretaste of the first part of 2015 when we have a grand trine in Fire ~ enjoy it!  Get busy!  Life is calling you!  Commit to the stuff you KNOW you want to bring into your life.  There is a new chapter of life being born into all this energy!  Watch for it and make sure to catch a ride with it!
As you can see, there are OODLES Of different types of ENERGY swirling around this week. Keep your vision focused HIGH and aim it toward what you want. Saturn is in a clear patch of sky that he won't be back in for 29 years. Karma is clearing, resolving, shifting and changing.  Trust the universe has your back and PUSH your dreams HARD and FORWARD!
Void Moons in the Week Ahead:  When the Moon is Void, it is wise to avoid making important decisions as they tend to be unrealistic, and subject to false starts, errors or unexpected hassles.  Avoid being concerned with things beyond your spiritual center.  It is time for subjective, spiritual and non-materialistic concerns.  Kick back, let life flow, and center yourself.  Connect into your essential oneness with the Universal Forces.
Moon enters Cancer on Monday, November 10, 2014 at 3:38 am EST.
Moon goes void trine to Saturn on Wednesday, November 12, 2014 at 04:17:24 am EST.
Moon enters Leo on Wednesday, November 12, 2014 at 01:45:20 pm EST. Moon is void Wednesday morning.
Moon goes void square Venus on Friday, November 14, 2014 at 09:53:40 pm EST.
Moon enters Virgo on Saturday, November 15, 2014 at 02:09:17 am EST. Moon is void Friday night.
Moon goes void sextile to Saturn on Monday, November 17, 2014 at 6:11 am EST.
Moon day Monday November 10,  2014  Moon enters Cancer at 3:38 am EST.  Moon goes void trine to Saturn.  Mercury's connection to Neptune brings some seriously amazing dreams.  Venus and Eris get into an argument so jealously can rear its head and ask you to make an adjustment. Mars and Pluto link up tonight and start a new two year cycle around passionately creating evolution and change in your life. Time to take action and go forward to change the world! You have the power to determine the course of your life. Choose love. Focus your intentions clearly! What is the VISION you have for your life or your world. Start articulating it clearly and concisely.  Moon in Cancer has a lovely trine to Saturn as the ruler of the Mars/Pluto in Capricorn ~ emotionally it is a great time to connect with the deeper psychological underpinnings of your being. You can also find you are ENRAGED as Mars is rage and Pluto is the underworld. Use the rage, anger, and passion in a productive way. Remember the REST of the world does NOT know what is going on ~ they are feeling the Mars/Pluto energy too. Proceed with caution in situations where folks can become very stressed out. You have the benefit and wisdom of astrology.  Take time tonight to clear out your house, body or refrigerator of things you want to cleanse from your life.
Mars day Tuesday November 11, 2014 Moon is in Cancer. Moon goes void trine to Saturn so we have productive energy to get things done today. Last night Moon was opposite Mars and Pluto and squaring Uranus so dreams were troubling and intense last night.  Pay attention to the images as they are spaces or areas the Universe wants you to clear out or change in the next two years. Or perhaps emotionally process the old stuck energy into something new that you can use in a different way.  Watch for the underlying message of how clearing or changing these spaces will help your soul's growth as Mercury works with Jupiter to teach you about your future.  Sun has harsh aspects requesting adjustment to the Nodes of Destiny~ sure, they are part of your life but do you want to spend more time in negative relationship to them?  It is okay to set boundaries and NOT do the same old thing. Your reactions can change. And when YOU change, everything changes. Mid-day, you have a BRILLIANT idea ~ make sure to take note of it and move forward with it.  You experience or run into a story of jealousy or envy that makes you shudder ~ change that energy into a new form and use it to fuel your positive action toward change. Uranus sesquiquadrate to the Black Moon Lilith encourages a new approach when someone wants you to be subservient.  Those days are in  your past. You can be pleasant about it but you are NOT going back to that! Mercury's trine to stationing Neptune tonight brings forward a story that is hard to believe or understand or wrap your brain around. Allow yourself to flow with the story. Attempting to make sense of it is a fruitless task right now. Let the energy settle in, settle down and clarify ~ it is a pile of water after all ~ you'll understand it soon enough.
Wednesday Mercury's day November 12, 2014 Moon is in Cancer.  Moon goes void trine to Saturn at 04:17:24 am EST.  Moon enters Leo at 01:45:20 pm EST. Moon is void Wednesday morning. Moon in Leo goes void square Venus offering an overdoing energy where nurturing and desire are at odds with each other. Adjust your expectations about how the other person is going to be able to work with you. There are limitations that need to be acknowledged if not accepted.  Dreams around  home and hearth are symbolic.  You may decide you need to leave home for a new destination.  Deep emotions surface from seemingly benign situations. Allow them to rise up. While it might feel like a loss, it actually is clearing and clarifying something deep and profound within you. Mars sextiles Chiron offering an opportunity for healing the abandoned orphan within ~ as an adult can you REALLY be abandoned?  This is a very old, deeply sourced memory. Dig in and clear the toxins.  Allow it to heal.  Venus links up with Saturn ending a story and beginning a new story  about love and your work or karma.  The Venus Saturn conjunction happens at least once a year.  This one is especially important as Saturn will NOT be in Scorpio again for 29 years. Venus is particularly impassioned when she is in Scorpio.  Allow your passions to fully express themselves.  Mars has a closing square to Uranus later today or in the early evening.  The story that began in March of 2013 is wrapping up now~ let the pieces fall where they will.  No more cleaning up other people's messes!  You have better things to do with your time!
Jupiter's Day Thursday November13, 2014  Moon is in Leo, going void on Friday night with a square to Venus.  An exuberant, dramatic, creative day.  News of an ending comes this morning.  Something isn't working right and it's okay to let it go.  Moon's trine to Uranus midday indicates an outburst of excitement and expansion.  Pallas Athena links up with Poseidon in the evening, diving into the uncomfortable (for her) underworld of deep emotional feelings.  Sun squares Jupiter at night, making it difficult to put off your cares and go to sleep.  Venus's semisquare to Pluto makes relationship choices dramatic and fraught with hidden conflict, which is particularly un-fun for the happy-go-lucky Leo Moon.  Everybody is coming from their ego space rather than their heart space.
Friday Venus's Day November 14, 2014  Moon is in Leo, going void tonight with a square Venus at 9:53 pm EST.  Another creative day full of overdoing and expressiveness.  There's a perceived conflict between expressing yourself in your life and relationships versus settling in to work on your creative projects.  The universe is trying to get you to do both.  You face a choice first thing in the morning, as Moon in Leo squares Sun in Scorpio.  Choose love instead of fear, control, or the will to power.  Admetos squares Black Moon Lilith, making everybody extra resentful of attempts to control them.  Uranus's trine to Juno encourages you to pitch to people's strengths, to truly partner with them, by trying a different approach than you have traditionally taken.  This loosening of the ties that bind leaves us happier and freer to make wise choices.  Chiron's inconjunct to Juno suggests that partnerships based on shared woundedness have to be adjusted, to become partnerships based on helping each other heal.  There's a lot of envy and jealousy this afternoon as both Ceres and the Sun aspect Eris the Goddess of Discord on the World Axis.  The outbursts will happen in front of other people.  If bystanders tell you, "Wow, I can't believe they said that to you!" then, trust me, the person who said it meant it, and was coming from a place of envy.  Pluto's sextile to Pallas Athena encourages us to try and understand the source of the pattern as opposed to just seeing the pattern.  The disease, not the symptom.  A little delving and poking around can help you clear out a deep-rooted infection from the heart, soul, or body.  Moon goes void square to Venus, sending to bed for a night of active dreams.
Saturn's Day Saturday November 15, 2014  Moon enters Virgo 2:09 am EST, with a closing sextile to Saturn on Monday morning.  Those dreams keep you tossing and turning all night.  Pay particular attention to the ones about love and relationships, the ones you woke up from right around dawn.  It's about understanding the role of pain and strife in a relationship.  Relationships be complicated things, and the dreams last night illustrated the places of challenge.  Venus's square to Black Moon Lilith resists being told what to do.  Even (and especially) if it's "for your own good."  Mercury's quintile to the Black Moon Lilith reminds us that everybody likes to feel their own sovereignty.  If offered complete freedom, however, they usually prefer to be in relationship to others, as long as there's no one controlling them.  Virgo Moon's opposition to Neptune midday suggests a nap or perhaps a movie or other Neptunian experiences (like music, dance, swimming, or even a beer) are in order.  Go to bed early tonight.  Mars opposite Hygeia can cause an increase in illness.
Sun's day Sunday November 16, 2014 Moon is in Virgo.   Moon goes void sextile to Saturn.  Neptune stations and turns direct today at 4:47 Pisces ~ he picks up the movie where the film broke on February 16, 2014.  Time to go forward toward the NEW dream… Neptune also can make us feel dreamy, emotional, teary, swamped, flooded, deeply sad or exceptionally happy.  All feelings change our emotional state as fast as water runs. Neptune's stationing effect is felt five days before and after he stops so Tuesday November 11 to Friday November 21 are extra mushy, flowing and emotional days.  Mercury's sextile to Pluto encourages you to delve deeper into the underneath, unseen, hidden energy lurking in your unconscious.  Look, look, don't be afraid.  It is YOUR unconscious.  Saturn in Scorpio holds the deep psychological energy and asks you to let go of your fear. Trust that the universe is unfolding as it should. Some information this morning encourages you to take a position to wrap things up around an emotional relationship. Trust that Neptune has your back. He's showing where you need to go to get to the next place.  Watch for a burst of energy around expansion and creativity.  Venus enters Sagittarius for 24 days until December 10, initiating our Sagittarian journey.  Today is a particularly active aspect day.  There's lots of stuff going on in your life, in the world, inside your being.  Mercury's sextile to Pluto encourages deep conversations and deep thinking about the direction of your life in terms of its evolution, while Mars's brilliant aspect with Jupiter inspires a burst of creativity and passion.  Sun's opposition to Sedna mid-afternoon brings up profound emotional connections particularly around not wanting yourself to be sacrificed anymore.  Pluto's parallel to Ceres at the end of the night speaks to partnering with some new creative energy and encourages collaboration.  Mercury links up with Pallas, starting a new cycle around strategically planning and thinking about the direction of your life and what to do.  Early to bed because next week promises to be very busy also.
Political Facebook Post: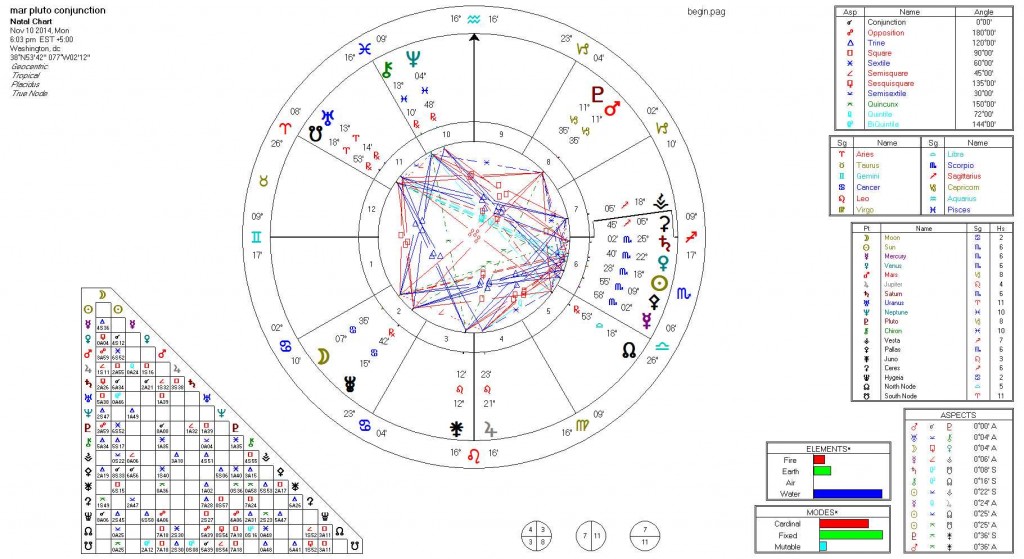 The upcoming Mars/Pluto conjunction takes place at 6:03 pm, November 10, 2014. We start a new two year cycle of war and destruction (lower form) or active transformation and evolution (higher form) that ends on October 19, 2016 right before the 2016 national elections. Other lower forms of Mars and Pluto are rape, pillage, domination and control. It isn't one of the pleasant planetary aspects! Unfortunately, in a country's chart, consciousness is not applied to the aspect to help it move to the higher form. We can expect lower form Mars and Pluto. Capricorn rules the government and corporations.
Mars is OUT OF BOUNDS. Out of Bounds planets DO NOT FOLLOW the rules. They are a law and force unto themselves. NOT good to have an destructive aspect being controlled by an Out of Bounds planet as it means our government and the corporations who own the legislatures will be out of of control and acting in Out of Bounds ways. Absolute power corrupts absolutely.
The chart for the current Mars/Pluto conjunction happens right after the November 4, 2014 elections where the USA Congress became controlled by the Republicans. The Mars/Pluto chart cast for Washington, D.C. places the Mars/Pluto conjunction in the 8th house of other people's money~ including government assistance, financial support and programs like Social Security ~ offered to the public (7th house). So we can anticipate war, destruction, rape, pillage, domination and control in the 8th house areas of our country. Also reproductive and right to die rights will be challenged and controlled. And the 8th house is taxes ~ ouch ahead of time ~ as that Out of Bounds Mars joined to Pluto takes us on a wild ride!
The Mars/Pluto conjunction is opposite the Moon in Cancer in the conjunction chart. The Mars/Pluto conjunction is opposite the USA Jupiter (July 4, 1776, 5:10 pm LMT, Philadelphia, PA). The upcoming opposition of Mars and Pluto in the current cycle is on July 15, 2015 at 14:02 Cancer, right on the USA 1776 Cancer Sun. Essentially, the citizens and luck of the public, as represented by the USA Jupiter, are going to be screwed, big time, by this conjunction via the vehicle of our out of bounds Republican government and corporations for the next two years.
Mercury in Scorpio in the 6th house rules the Gemini rising chart. Gemini rising can talk out of both sides of their mouth. People call it lying. Watch WHAT they say and compare it to what they DO. Mercury in Scorpio takes an ends justifies the means approach. Out of Bounds Mars rules all the Scorpio planets in the 6th house of the people of the country as well as the Aries planets in the 11th house of Congress. The sixth house is the Virgo house of the working class people as well as the military ~ the servants of the country. The working people are going to take it on the chin from that Out of Bounds Mars. The Scorpio planets are Mercury, Athena, Sun, Venus, and Saturn ruling or co-ruling houses 1, 3, 4, 5, 6, 7, 8, 9, 10, and 12. Uranus and the South Node in Aries are in the 11th house of Congress, and Uranus rules the Midheaven of the Chart. We can expect the country to go down the South Node drain ~ quite rapidly ~ as Uranus and the South Node are trine to Jupiter in Leo.
We are approaching the Pluto return of the United States. The current Mars/Pluto conjunction says FULL STEAM AHEAD to our Pluto return! Most countries last 250 years ~ a Pluto return ~ when absolute power corrupts absolutely and the country collapses. Looks like we will be getting there sooner rather than later.
The GOOD news (there always is a silver lining to a cloud or difficult transit) is IF we get there sooner AND collapse and self-destroy our country faster, we can rebuild a country that actually takes care of its citizens.
After Pluto transits, especially big ones like this one will be, people say "I learned an enormous amount. I NEVER want to go through that again. My life is completely and radically changed."
Here's a toast to our upcoming transformative learning Pluto experience! We are all in this together! What is YOUR vision for the future?
Anne's Three Radio Shows and Two Recommended Shows Recap:  Listen in to the podcasts via iTunes or by the website links.
Anne's Weekly Weather: A mighty powerful week with lots of amazing energy to harness and work with.  Neptune stations and trines Mercury in Scorpio inviting a new dream in.  Mars and Pluto join forces. Venus and Saturn join forces. Mars squares Uranus in a psychological aspect. Venus enters Sagittarius.  Ready set go forward in your life!
Scorpios Talking:  Anne and Michael talked about holding the space when you don't know where you are going.  No vision, lots of endings, hold the space.
Access Astrology: Anne, Mark and Heather took listener's calls and talked about the Mars/Pluto conjunction.
Venus Unplugged: Llorraine Neithardt with Venus lessons for all!! For Jungians, dreamers, poets and visionaries this podcast helps with your individuation and your understanding of Venus!
CG Jung Speaks! There are great readings from Jung! Tune in!  Kendrick Norris, Ph.D. will be completing the series. He reads excerpts from Jung.  If you are working on individuating, take the time to listen in!
Copyright© 2014 A.C. Ortelee