Weekly Weather April 13, 2015
The eclipses are leaving! The eclipses are leaving!
Acceptance is kind of like ending a long standing argument you've been having with the Universe (G-r-r-r-r…), over how powerful you are.
And I say, "ending," to be both suggestive and diplomatic.
The Universe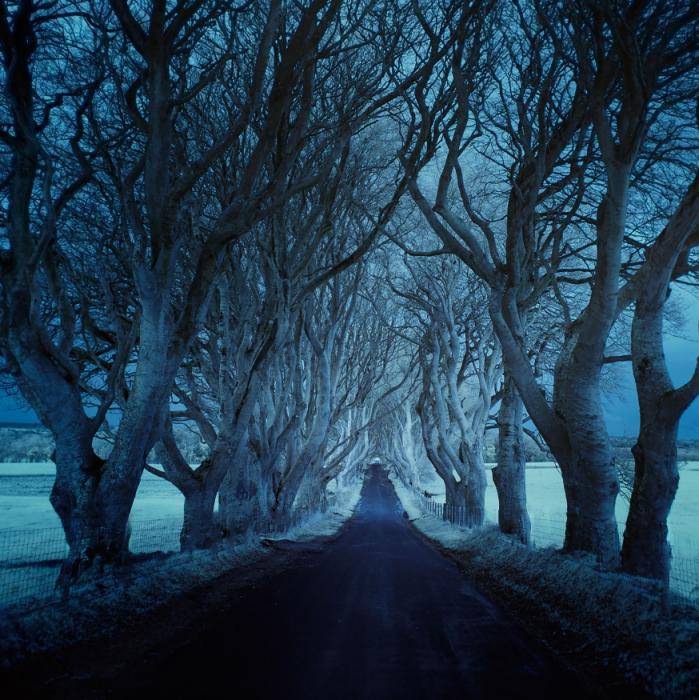 Thank you for keeping my sister Mary in your prayers. Prayers help when dealing with Pluto ~ particularly when he stations like this week. Thank you.
Okay so one more week and we are done with this set of eclipses.  On Saturday, we have a New Moon at 28:25 Aries marking the end of eclipse season.  Of course, this LAST week of the eclipse season WILL BE HUGE!  Huge especially because the new moon solar eclipse season started off at the last degree of the last sign of the zodiac, 29 Pisces, and with the full moon lunar eclipse having Uranus/Sun diving into the South Node of destiny and permanent endings.
Huge because Uranus and Pluto finished their once every 50 year square during eclipse season.
And finally, HUGE because Pluto stations to turn retrograde on Thursday at 11;51 pm.  Pluto stops, turns and backs up, retrograde, turning away from Uranus.  Uranus shoots forward deeper into Aries as Jupiter in Leo hurries to catch up. Whatever was supposed to be transformed by the Uranus Pluto dance has changed or been cracked open.
This week, as Pluto stations, we have the final shoe dropping.  The last reveal.  The exciting "ah ha" moment. The secret part of the story that makes everything fall into place. It finally makes sense. We have the opportunity to evolve and do the right thing (or to continue doing the wrong thing).  Time for acceptance.  Time to man or woman up. Time to end the long standing argument you've been having with the universe. Time to grow up and move on.  It is done. The heavens say it is time to turn away from your old life and release, gently, kindly and purposefully the old, outworn life.  Start to move toward a new chapter.
Take a few minutes before Pluto stations to separate from Uranus for the next 30 years and review what has gone on in your Aries and Capricorn houses over the seven squares. Look also where Natal Uranus and Pluto reside in your chart to see what the evolutionary lessons have been.
Uranus Square Pluto Jun 24 2012   05:12:10 am 08°Ar23′ D 08°Cp23′ R
Uranus Square Pluto Sep 19 2012   01:56:58 am 06°Ar57′ R 06°Cp57′ D
Uranus Square Pluto May 20 2013   07:02:06 pm 11°Ar14′ D 11°Cp14′ R
Uranus Square Pluto Nov 1 2013   06:30:04 am 09°Ar25′ R 09°Cp25′ D
Uranus Square Pluto Apr 21 2014   03:20:52 pm 13°Ar34′ D 13°Cp34′ R
Uranus Square Pluto Dec 15 2014   00:13:36 am 12°Ar35′ R 12°Cp35′ D
Uranus Square Pluto Mar 16 2015   10:53:49 pm 15°Ar18′ D 15°Cp18′ D
You don't need much but you DO need to be clear about your vision of what you want to do, and where you want to head.  The changes are complete. Done. Finished (after Pluto goes retrograde). The Universe is supporting you!
Mercury is moving fast, making deals, negotiating and taking on the multiple jobs before him.  Mercury enters Taurus on Tuesday night for 16 days of practical, down to earth energy.  Mercury's trine to stationing Pallas on the world axis illuminates how we got to where we are now. Mercury, as the Apex, forms a fast moving finger of God with Saturn and the North Node of Destiny ~ we have the opportunity to strike a deal that propels us forward in our life and towards our fate by combining the results of our actions with the relationships we've formed.  Partner with and choose love.  Mercury also forms a fast moving t-square with Juno and Ceres ~ he invites us to negotiate between traditional marriage/partnership and the things that we find most nurturing or need to take care of our soul.  We stand in the middle between those two Goddess, Juno and Ceres, looking at their conflicting (right now) requests of us.  Our path is through the sign of Scorpio to understanding.
Mars finishes up his Finger of God with the Nodes of Destiny on April 14 ~ we come to understand, in a very physical manner, the requirements being asked of us. His square to Jupiter in Leo on Friday  moves to bring a close or action on legal matters.
Jupiter is moving to catch up with Uranus ~ they are dancing together  in a Fire Trine waltz until early July.  Jupiter is illuminating your Leo house inviting you to expand your life and shine in a new way. You are starting a new 12 year chapter in your Leo house ~ bright, shiny and new energy!
Pallas stations at zero Capricorn, the world axis, on April 19, driving into your being her strategic insights practical, down to earth and profound wisdom.  You get it.
Venus in Gemini offers us choices as she squares Neptune and opposes Saturn ~ forming an action taking t-square.  The output of the t-square is Virgo ~ take a detailed assessment of what went on and what needs to take place next.  There are always two sides to every story but there also is a right and a wrong.  You know what to do here.  Do the right thing.  Venus' biquintile to Pluto points out where power can grace wisdom and beauty. Venus goes out of bounds in Gemini from April 18 to June 2, 2015 ~ we can expect some wild and crazy Venus stories over the next two months!
Sun clears Neptune so we can see clearly, even if we are rather stressed out by WHAT we see.  Yes, it was always part of the story. And NOW that you know, you get it. All part of the magic of the universe to get us to where we are now
Eclipse seasons are big departure time periods.  The Sun and Moon link up with the Nodes of Fate and Destiny, inviting us to change our paths and course correct our lives. This last week, as the Moon wans in energy will continue to bring many departures or news of leave taking.  Release, release, release.  It is time to leave earth, the job, the relationship, or the situation that has outgrown you (or vice versa).  People who are elderly, sick or with a tenuous hold on life will leave us.
Monday and Tuesday have an Aquarius Moon which invites us to take a 20,000 foot overview of the direction of our life and to watch for important news as the Moon and Mercury are sextile as a closing aspect. Moon goes Void Tuesday afternoon and enters Pisces after 27  minutes. Moon in Pisces Tuesday night, Wednesday and Thursday has lovely closing aspects of a sextile to Pluto ~ making power dynamics want to be resolved and worked with productively.  Moon goes void Wednesday evening at 5:37 pm ET and is void all day Thursday! Moon enters Aries on Thursday night at 5 pm ET and is in Aries Thursday night, Friday and most of Saturday. Actively work to release, release, release Thursday night, Friday and Saturday! Take advantage of the eclipse energy to move into new relationships with the world! Aries Moon's last aspect is joining the Sun and starting a new 2 ½ year cycle of action and creation.  Moon enters Taurus on Saturday afternoon, Sunday and Monday, going void Sunday night at 7:06 pm with a trine to Pluto.
Void Moons in the Week Ahead:  When the Moon is Void, it is wise to avoid making important decisions as they tend to be unrealistic, and subject to false starts, errors or unexpected hassles.  Avoid being concerned with things beyond your spiritual center.  It is time for subjective, spiritual and non-materialistic concerns.  Kick back, let life flow, and center yourself.  Connect into your essential oneness with the Universal Forces.
Moon is in Aquarius
Moon goes void sextile to Mercury on Tuesday, April 14, 2015 at 03:45:51 pm ET.
Moon Enters Pisces on Tuesday, April 14, 2015 at 04:12:50 pm ET.
Moon goes void Sextile Pluto on Wednesday, April 15, 2015 at 05:37:58 pm ET.
Moon is void Wednesday night and most of Thursday.
Moon Enters Aries on Thursday, April 16, 2015 at 05:00:54 pm ET.
New Moon on Saturday, April 18, 2015 at 02:57:58 pm ET.
Moon Enters Taurus on Saturday, April 18, 2015 at 05:32:19 pm ET.
Moon goes void Trine to Pluto on Sunday, April 19, 2015 at 07:07:45 pm ET.
Moon is void Sunday night and all of Monday.
The New Moon at 28:25 Aries has the following Lunar Phase Family April 18, 2015 New Moon, January 16, 2016 Opening Quarter, October 16, 2016 Full Moon, and July 16, 2017 Closing Quarter.  Venus in Gemini, Out of Bounds, or Mercury in Taurus rules most of the sky as well as the mid-heaven of the chart cast for Washington, DC. Virgo rising as well as ruler of the second house draws our focus to Mercury positioned in the 9th house.  Mercury is a leg of a Finger of God pointing to the apex, the North Node in the Second house.  The other leg is Neptune and Vesta in Pisces.  A second Finger of God links into the first with the Apex being Neptune/Vesta with the legs being the North Node and Juno. The combination says "head toward where your fate is calling you (North Node in Libra) by partnering with your passion and what you love (Juno in Leo) and communicate solidly, firmly, and fixedly so things root into fertile soil (Mercury in Taurus) what your dreams and hopes are for yourself and your loved ones (Neptune and Vesta in Pisces).  And by now you are clear what is important to you!  So move toward it!  Use the New Moon energy to launch your next great adventure.  Venus out of bounds promises it will take off like a rocket!  Plus the three hammers of Thor will knock down any barricades!  The New Moon is all Fire and Earth ~ great for baking clay into pots but can go scorched earth pretty quickly…. so be careful with your tongue!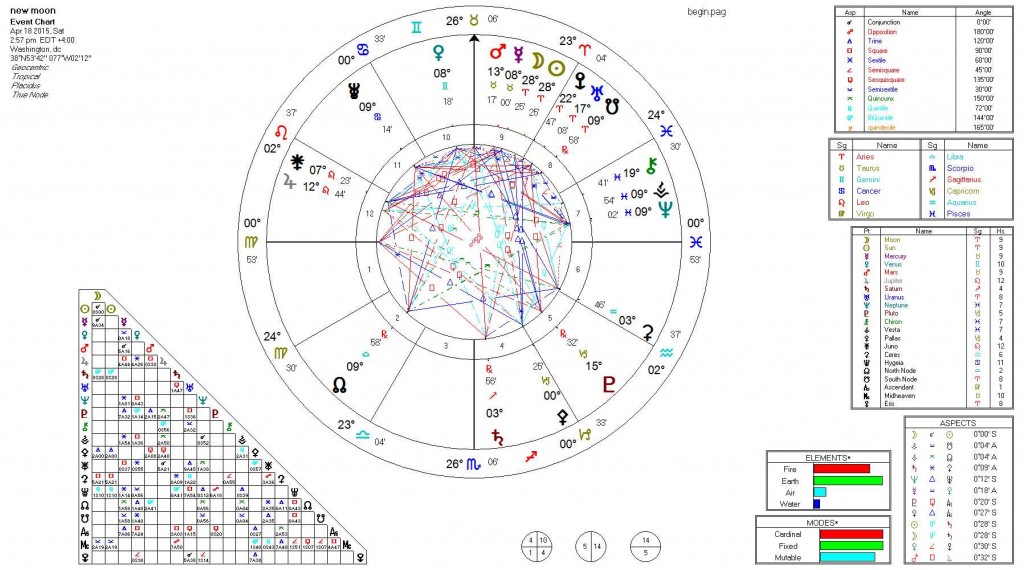 The Sabian Image for the New Moon on Saturday at 28:25 Aries is THE MUSIC OF THE SPHERES
Lynda Hill's interpretation of the Sabian Image is:
Commentary: 'The Music of the Spheres' is a beautiful image of music and harmony. It implies harmonies in sounds of all kinds. In this Symbol, the words 'The Spheres' refer to the planets in our solar system. The scholar Pythagoras observed that the pitch of notes depends on the rapidity of vibrations, and also that the planets move at varying rates of motion. He concluded that the sounds made by their movement vary according to these different rates of motion. Since all things in nature are harmoniously made, different sounds can harmonize. The combination of these sounds he called 'The Harmony of the Spheres'.
Oracle: This is a particularly intuitive Symbol. It appears that it doesn't matter if things are going well or not, if you are in tune with your own inner voice, this can be a time of at-one-ment or attunement with your path. Listening to the 'Music' around you can open up messages from your own inner voice. The beauty of cycles that go round and round, as seen through the lens of astronomy and astrology, can lead to an understanding of the rhythms of nature and the seasons. Natural cycles revolve, meshing precisely like the gears in a clock. We each have a musical voice, our unique sound. We join with others in harmony and the voices together create alchemy. Sing, ring a bell, play some music, use Tibetan bowls for their beautiful tones. Listen to the words of songs to receive messages that are relevant to you. Being in harmony with one's surroundings can bring rewards both seen and unseen.
Keywords: Voices bringing messages. Attuning to the messages inherent in astrology. Harmonies, chords, keys, octaves. Things heard. Natural harmony of life. The beauty of the planets. The measurement of time. Circadian rhythms. Dancing to the wind. The humming of bees. Days of the week. The sound of water over rocks or crystals. The planets speaking through or to you. Sending love.
The Caution: Inflating rational ideas. Delusion or enlightenment? Getting lost in abstractions. Rejecting what's obvious on an intuitive level in favor of more intellectual answers.
Listen within yourself and look into the infinitude of Space and Time. There can be heard the songs of the Constellations, the voices of the Numbers, and the harmonies of the Spheres. The Divine Pymander
All a musician can do is to get closer to the sources of nature, and so feel that he is in communion with the natural laws. John Coltrane
There's music in the sighing of a reed; there's music in the gushing of a rill; there's music in all things, if men had ears: Their earth is but an echo of the spheres. Byron
The heavenly motions… are nothing but a continuous song for several voices, perceived not by the ear but by the intellect, a figured music which sets landmarks in the immeasurable flow of time. Kepler
Every action of our lives touches on some chord that will vibrate in eternity. Edwin Hubbel Chapin
Among whom the gods bless, high on the list are the music people, who tune into celestial vibe-brations and give mortals a taste of immortal sensations. Ruby Dee
Moon day Monday April 13 2015 Moon is in Aquarius and goes void sextile to Mercury. Expect some shocking or unusual news these next two days as Mercury and Moon are chatting and sharing what has been going on behind the scenes. Dreams are full of vibrant images.  The day goes pretty rapidly with conscious breakthroughs for people. Venus trines Ceres and invites an expansion of energy in the nurturing and caring part of your life. Folks are feeling kind of sensitive and need extra care and feeding. Take time today to stop and support those having an emotional time. Vesta semi-square to Eris brings information about how things can change around your home. Mercury's biquintile to Saturn offers some somber ideas about the future ~ Mercury is triggering old energies and asking them to emerge or express in a different manner. His subsequent semi-sextile to Admetos can bring you up short as he points out a blind spot.
Mars's day Tuesday April 14, 2015 Moon is in Aquarius and goes void sextile to Mercury at 03:45:51 pm ET.  Moon Enters Pisces at 04:12:50 pm ET.  Expect another busy day full of information and news. Moon in the morning brings good news while the early evening is a bit more stressful as Moon squares Venus and Saturn. Mercury enters Taurus for a focused, grounded, solid energy around communication. Time to get down to business. Sun's semi-square to Neptune reveals secrets that wanted to remain hidden. Mars quincunx to the North Node of Destiny finishes up the fast moving Finger of God from last week. The last bits of news or information falls into place. Deal with health matters in a direct and forthright manner.  You get good news this evening as Mercury and Apollon sit down for a conversation. Take a practical approach to what you hear. Mercury's contraparallel to Vesta invites you to go home and sleep after a very busy day. Right before you drift off, a brilliant idea or break through happens.
Wednesday Mercury's day April 15, 2015 Moon is in Pisces and goes void Sextile Pluto at 05:37:58 pm ET.  Moon is void Wednesday night. Tonight dreams were full of separating images about loss as Venus opposes Saturn. There is the loss of a dream or something important to you. Health matters need attention or to be dealt with. Jupiter links up with Pallas by declination pointing out where you need to focus your attention and skills. Nothing dramatic ~ just a gentle pull to a new place or new approach.  Moon's void sextile to Pluto moves negotiations along to a new place. The void moon tonight encourages you to play and have a bit of fun.
Jupiter's Day Thursday April 16, 2015 Moon is void in Pisces most of Thursday. Moon Enters Aries at 05:00:54 pm ET.  The void moon encourages us to process all that has gone on during the past month of intense eclipse activity. There can be arguments with siblings over parents or nurturing.  Neptune's union with Vesta encourages us to follow our dream.  Take time today to sit quietly and think about what you want for your future.  Look back over the past few years and spend time understanding what the Uranus/Pluto square brought to consciousness in your life. Pluto's station later tonight makes today a profound day for deep interior work.  After Pluto shifts directions and starts to move away from Uranus in earnest, we'll feel an enormous shift and release of tension.  Mercury's quincunx to Saturn brings your values into a dialogue or conversation with your beliefs about what is right or wrong.  Venus' biquintile to Apollon encourages you to dive below the surface to grab a jewel ~ twist the energy in your mind to find another version of the story ~ a version which encourages you to shift your focus to the positive. Mercury's semisquare to Chiron suggests your words hurt more than you'll even ever know.
Friday Venus's Day April 17, 2015 Moon is in Aries and goes void with a conjunction to the Sun ~ a NEW MOON on Saturday!!  Today is a big, big, big release day as we roll through the balsamic phase and reach a conclusion to the eclipses!  Release, release! Release! Release!  Mercury and Juno are figuring out how to proceed with their new relationship. Venus parallel to Kronos reminds us that somethings are as old as the hills and will always be. Venus sextile to Juno gets us laughing and having fun again. You know you are starting to heal when you laugh again!  Mars closing square to Jupiter wraps up the story that began at their conjunction on July 22, 2013 at 5 Cancer. You can't make this astrology stuff up! Deal with any and all health matters promptly!  No fooling around.
Saturn's Day Saturday April 18, 2015 Moon is in Aries and there is a New Moon at 02:57:58 pm ET.  Moon goes void right after the New Moon. Moon Enters Taurus at 05:32:19 pm ET and goes void Trine to Pluto. Positive endings for things begun today and Sunday.  The Luscious New Moon in Aries answering ignites the spring as it ends eclipse season. Dreams last night were pretty rocking and rolling ~ encouraging a new approach to old issues and matters. You just have to accept it to move forward.  Sun's biquintile to Saturn offers a brilliant solution to the problems at hand.  How did you miss it?  Nevermind  ~ now that you SEE it, you SEE it!  The New Moon today starts a new 2 ½ year cycle in the house holding 28:25 Aries. Mercury's forms a t-square with Juno and questions the traditional approach you've taken to the matter.  Time for a new agenda.  You might find you have a sudden rise in temper ~ stomp and jump around all you want, you still have to deal with the matter. Admetos suggests you end it right here so everyone can move on. Venus contraparallel to Ceres says the feminine principle is fighting with the nurturing energy ~ on occasion those two just don't get along.  Agree to disagree and use the productive energy in the sky to tackle something you do agree on.  Vesta is part of a Finger of God with the Node of Destiny… get your suitcase packed, you are moving on!  New adventures await you! Sun's contraparallel to Vesta encourages you to clear out the old and outworn.  Time for the new to be planted, nurtured, watered and grown!  Tonight you get some news you didn't expect but which is kind of welcome due to the circumstances.  Dance and sing but don't do it in public or people will think you are being excessive or ill mannered!
Sun's day Sunday April 19, 2015 Moon is in Taurus and goes void Trine to Pluto at 07:07:45 pm ET.  Moon is void Sunday night and all of Monday.  A very busy, busy day Taurus Moon encourages us to garden, roll in the earth and appreciate the abundance around us. Moon, exalted in Taurus, has lovely aspects all day, inviting grace, beauty and joy into our lives.  Mercury's sextile to Neptune brings interesting dreams of our future. Venus' square to Neptune opens our eyes to what is possible for our future.  Perhaps you might feel a bit sad or disheartened by the square energy  (it can be stressful) but understand a new season is coming in.  Speak up and ask for your dream.  Saturn suggests changes in your diet or how you nurture yourself ~ you can shift the energy of nurturing in your tribe too.  Difficult news arrives mid-day which needs to be dealt with directly as Mercury sets off the last leg of the Finger of God.  It is not totally unexpected but still not good. Saturn points out the obvious so that patterns which have been troubling to you are explained.  Venus and Pluto strike a bargain and come up with a creative solution to the matter at hand ~ love and money and power ~ how can you beat that combo?  Be proactive with relationships and activity. Moon supports your forward action! Mercury's sextile to Vesta encourages us to take direct action around matters of the home and hearth ~ or siblings and cars ~ to get what we want. Pallas stations to go backwards on the world axis ~ suddenly things seem SOOOOO very clear to you!
Anne's Three Radio Shows and Three Recommended Shows Recap:  Listen in to the podcasts via iTunes or by the website links.
Anne's Weekly Weather: An early broadcast because I was at the Great Lakes Astrology Conference in Ann Arbor.  We covered the end of the eclipse season and where Jupiter wants to expand your life!  Pluto stations to go retrograde. The eclipses are leaving!  The eclipses are leaving!
 Scorpios Talking:  Anne was flying to her conference. We'll be back next week.
Access Astrology: Anne slept right through it.  Too much eclipse energy so her Pisces Moon swam into dreams.
Venus Unplugged: Llorraine Neithardt with Venus lessons for all!! For Jungians, dreamers, poets and visionaries this podcast helps with your individuation and your understanding of Venus!
Got a Lite? Pattie Canova hosts a talk show using wit, candor, keen insight, perception, experience and Tarot to inform, illuminate, enlighten and entertain her listeners.
CG Jung Speaks! There are great readings from Jung! Tune in!  Kendrick Norris, Ph.D. made a wonderful series. He reads excerpts from Jung.  If you are working on individuating, take the time to listen in!
Lynda Hill's work appears with her permission.  Check her out at sabiansymbols.com.
Copyright @2015 A.C. Ortelee